By: James Hughes
June Market Update
Tags: June, Market, Real Estate, GTA,
June marks the first month with a very substantial increase in activity since the Pandemic was announced in March. The would-be Buyers that were waiting on the sidelines, have returned and the market is booming again. There were over 8700 Sales reported by GTA Realtors in June, which was an 89% increase from May 2020, and was only down by 1.4 % compared to June 2019.
New listings in June were up by 2.1% year-over-year, but Active Listings on TRREB's MLS® System at the end of June 2020 were down by 28.8% compared to June 2019. This shows that there is still a lack of inventory and Buyers are returning to the days of bidding wars for some homes. Growth in New Listings will need to outstrip growth in sales for several months before Active Listings approach last year's levels.
The average selling price for all home types combined in the GTA was $930,869 – up by 11.9% compared to June 2019. The actual and seasonally-adjusted average selling price was also up substantially compared to May 2020, by 7.8% and 9.8%, respectively.
Average and benchmark selling prices were up year-over-year for all major home types. The strongest average annual rates of price growth were experienced in the detached and semi-detached market segments in the City of Toronto at 14.3% and 22% respectively.
The news of the resurgence of the market could encourage more people to sell, hopefully creating more inventory and curbing the sky-high demand.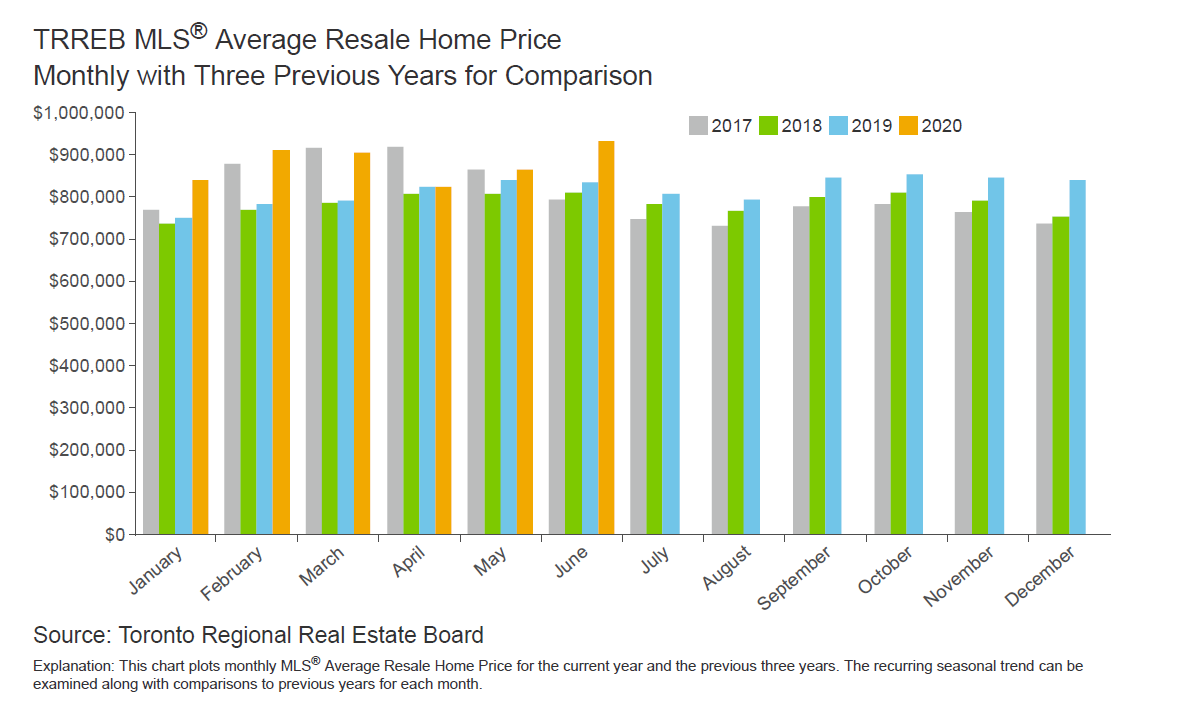 COVID-19 Protocol
Although market activity has picked up, and the Province prepares for Stage 3, it is still NOT business as usual. Our homes are our safe zones, and it is critical that protocols are followed closely. The recommended guidelines absolutely apply to Real Estate, and it is in our Province's best interest to remain vigilant and do everything we can to stop the spread. Each Brokerage has adopted their own policies regarding showings, but most have the same requirements. Some of the common stipulations are:
Masks and gloves are mandatory for all in person showings.
Touching any surface (light switches) is strongly discouraged. Wipes are often provided to clean surfaces that have been touched (door handles).
Limiting the number of prospective Buyers on the showings to 2. Bringing children on showings is discouraged, and some Sellers may refuse entry if they see too many people. It is common for Sellers to monitor their security systems to watch for this.
Questionnaires to be filled out prior to entry of each home to indicate that guests are symptom free and have not been exposed to the virus.
Almost all homes now feature virtual walkthroughs, and in the last several months, the maximum number of pictures on MLS listings was increased from 20 to 40. This has been great to help Buyers narrow down the number of houses they would normally see in person. There are fewer in-person requirements now, as professionals in other industries have also adapted to the new normal. With the help of virtual meetings and electronic signatures, lawyers, mortgage brokers and banks are often able to offer all the same services remotely.

Stage 3

Today, we learned that most of the Province will be moving into Stage 3 on Friday, June 17, including Wellington-Dufferin-Guelph. This allows Open Houses again, provided Realtors adhere to the Province's new indoor gathering limit of a maximum of 50 people. In all cases, individuals are required to continue to maintain physical distancing with people outside their households or social circles.

I'll be sure to send out more information as it's released. Thanks for reading and I hope everyone is safe, healthy and enjoying the warm weather!